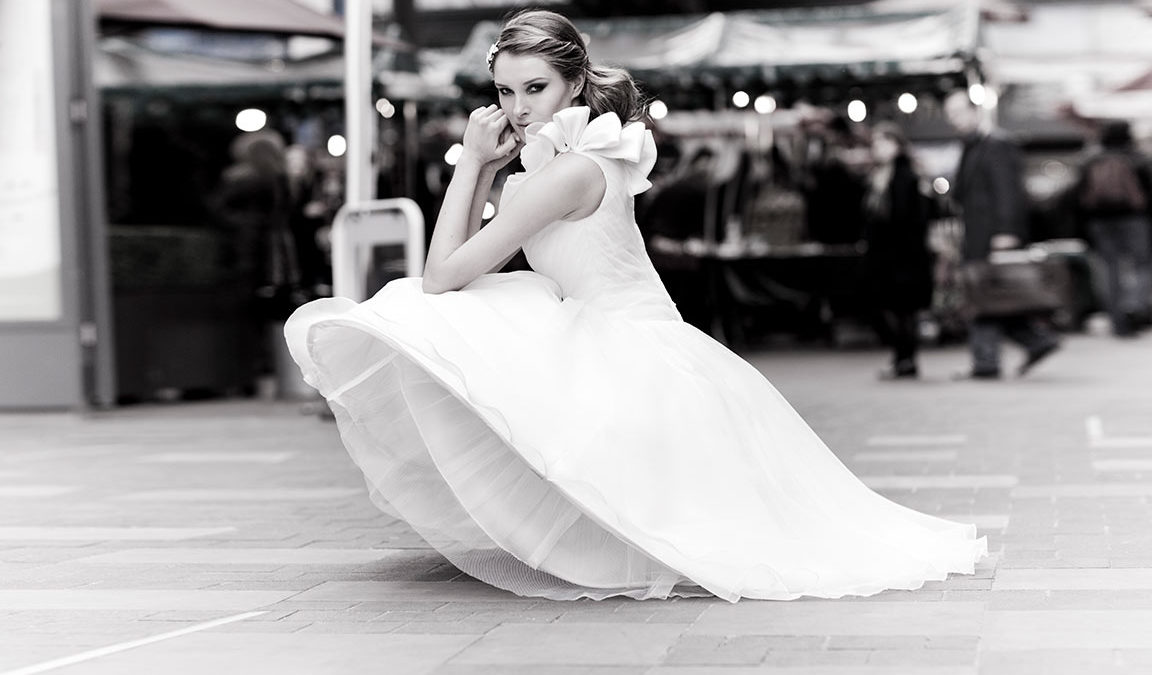 Kitty & Dulcie: Fabulous Wedding Dresses at Astonishing Prices
Although Kitty & Dulcie only sell their low cost wedding dresses online, their headquarters are local to us (and we love them!) so they get to feature as one of our Local Wedding Biz Friends!
Kirstie, a multi award winning accessory designer and artist, and Shelley, an Ex Beauty Editor and stylist, launched Kitty & Dulcie in 2011.  Together, they have created a range of unbelievably affordable wedding gowns and bridal accessories priced below £396, sold exclusively online at kittyanddulcie.com.
Quickly recognised by the national wedding press as the first internet-only bridal designer to offer leading edge, high quality, and low priced designs, they won the Essex Business 'New Company' Award and Perfect Wedding Magazine 'Best Wedding Newcomer' Award in 2012.
Team K&D are self-confessed vintage die-hards, but their dresses have a modern edge that can allow the wearer to go retro or swing with a more up to date look.  They are particularly fond of the cut and flow of a knee-length 50's number, with layers of petticoats and tulle.  However, you will also find floaty full-length gowns in their online boutique.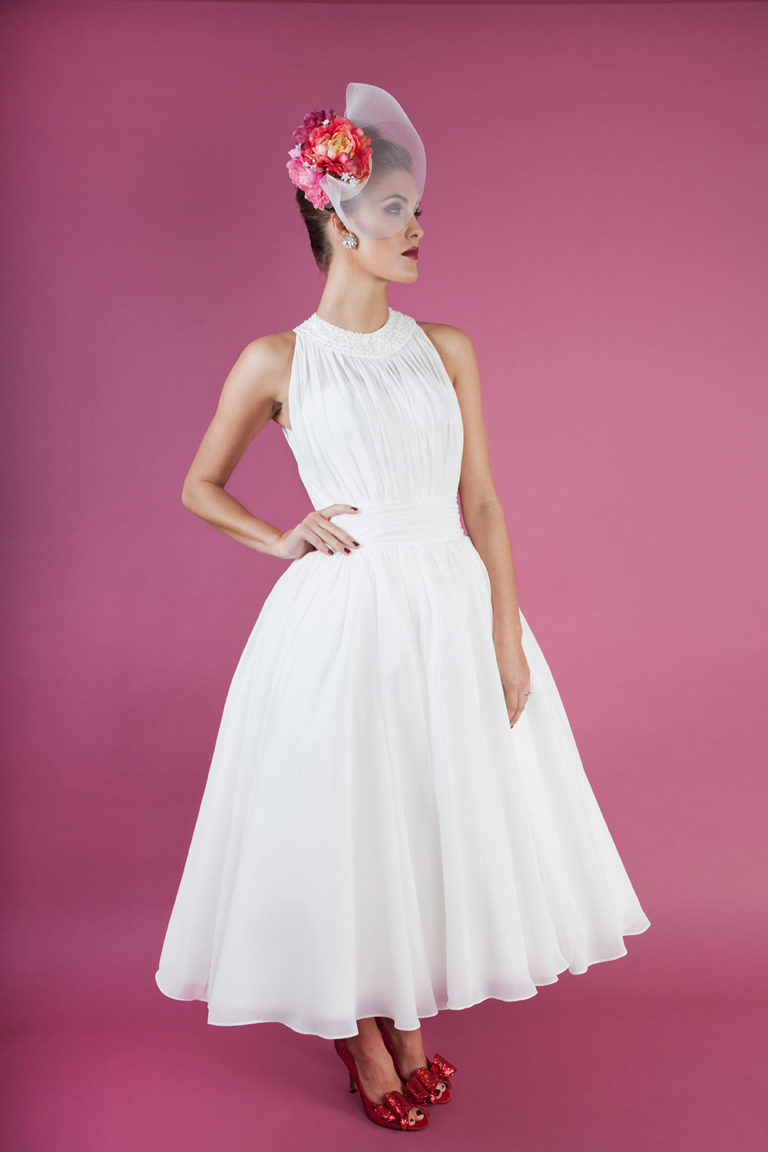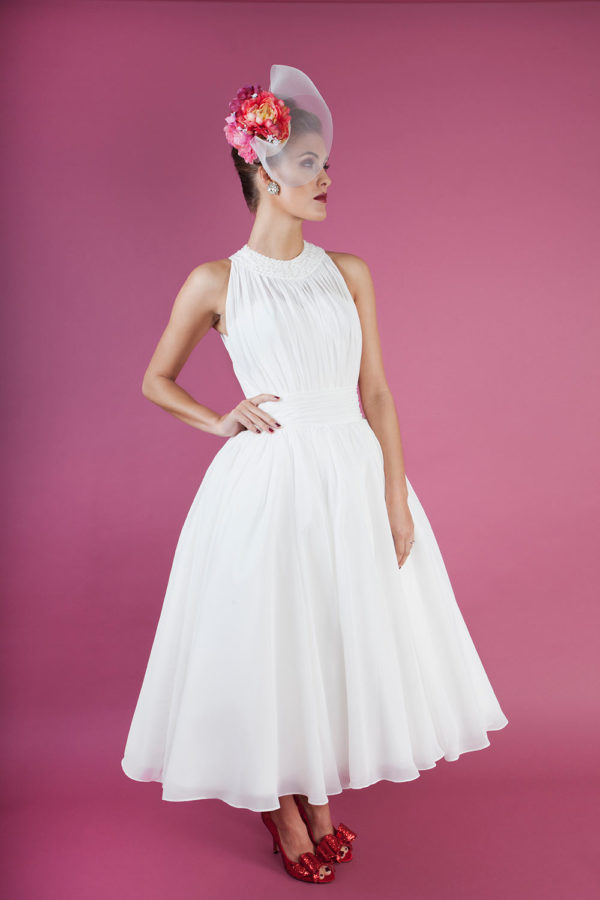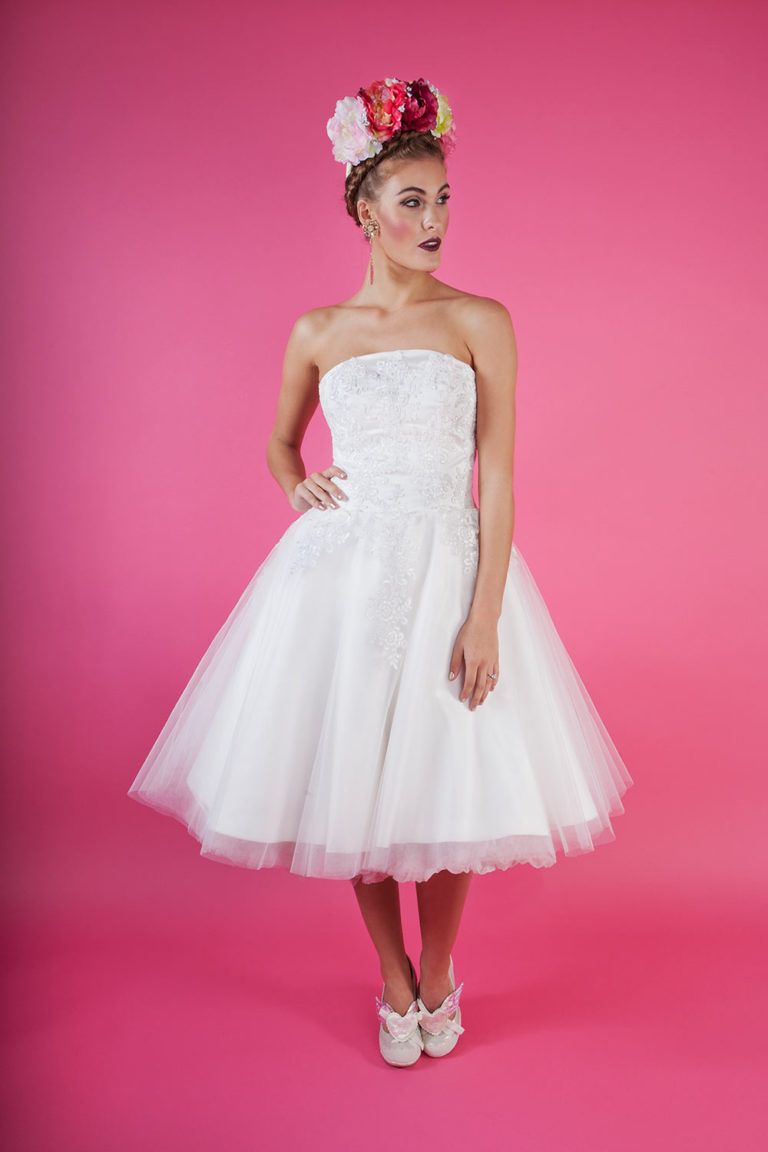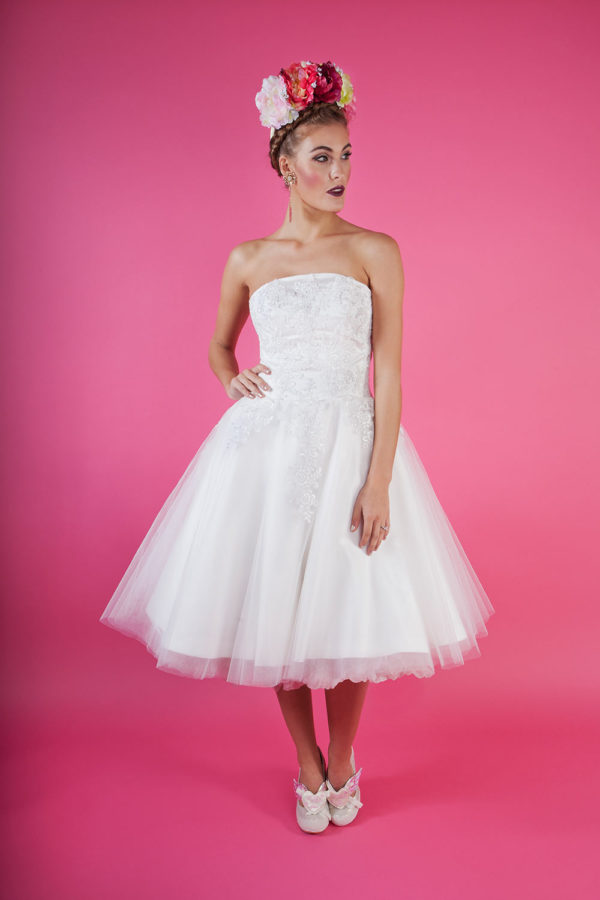 "As bridal designers, we take inspiration from all over the show – an amazing visual in a magazine to a TV character's attire to a fleeting glance of a girl looking incredible on a station platform", says Shelley.  "We share a love of vintage fashion especially from the 50's – cinched in waists and full skirts with maximum twirl capacity really float our boat.
"Our brides constantly inspire us with their questions and feedback about how they felt in our gowns – it's not just about the look, it's about comfort and the confidence a dress can provide.  We're inspired on a daily basis, whether it is via an incredible image on Pinterest or a movie star's red carpet creation."
Their wedding dresses have featured in videos, on national TV, nationwide billboard adverts and they regularly appear on the editorial pages of the nation's most prestigious bridal magazines.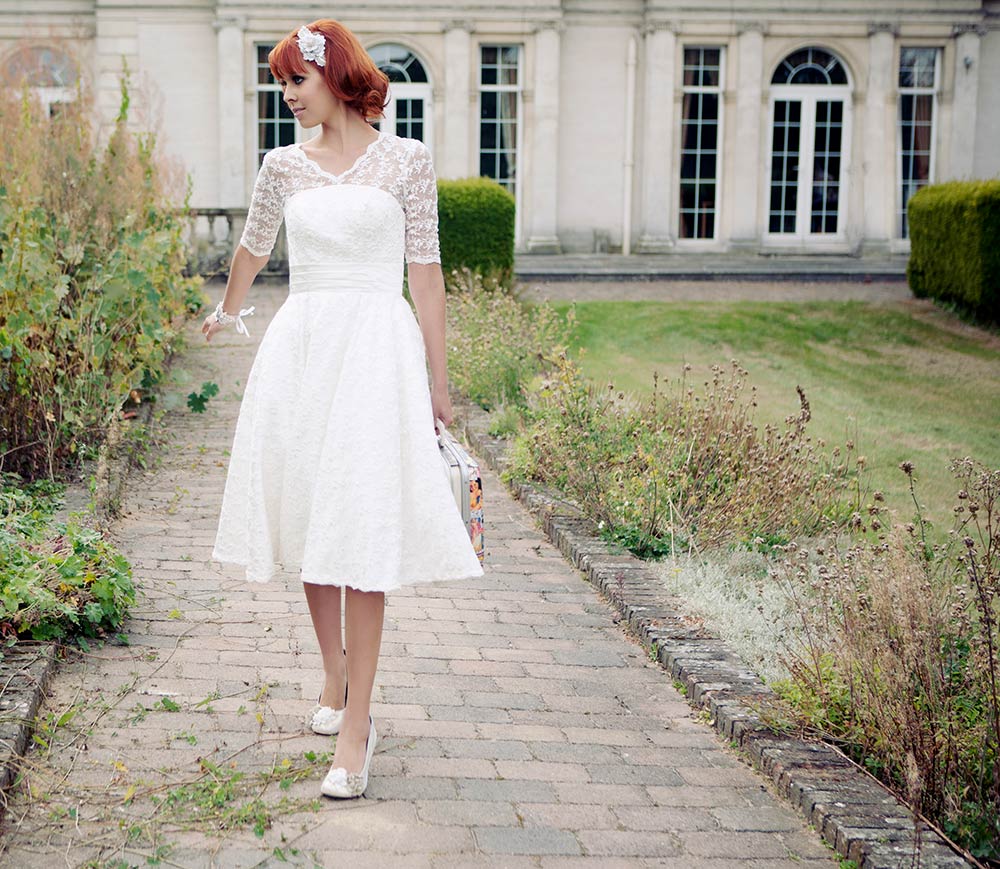 Kitty &  Dulcie have been involved with all sorts of interesting companies over the years including, Thomson Weddings, Rainbow Shoes, Joe Browns, Don't Tell The Bride, Towie, Reveal Magazine and have featured in all the wedding magazines and main wedding blogs such as Rock and Roll Bride, Love My Dress and Rock My Wedding.
An Online Only Wedding Dress Boutique
Kitty & Dulcie's award-winning designs are a fraction of the cost of gowns made to the same high standards, available in bridal boutiques.  They believe that every bride should look amazing on her big day – whatever her budget.  By cutting out the middle-man (i.e. not having a shop) and only supplying their wedding dresses online they've been able to pass on these savings to their brides.
Designed for the bride who is bang on trend but doesn't believe in paying over the odds.
The glowing quotes on their Bride's page at kittyanddulcie.com are a testament to this.  Kitty & Dulcie have created a range of designs, which combine luxurious fabrics and fabulous workmanship, all sent out with a satin padded hanger and pink 'zip-up' hanging garment cover.  With a mix of lengths and fashion-forward styles to choose from, they offer leading edge wedding dresses with fairy tale price tags – in fact, their current SALE includes gowns priced as low as £150!
I asked Shelley and Kirstie if they have any particular favourites among their collection: "Of course we are very proud of each and every design," says Kirstie, "but our Pearly Queen never fails to bring joy.  It's been worn by brides in the UK, France, USA and all over the world, is very much loved and it's just £370.  The feedback we get from our brides is that they felt like a princess in the Pearly, they were comfortable; they danced the night away and were able to show off their foot candy to one and all.
"Our Dame Dulcie is THE most incredible gown made of satin and lace – it's a firm favourite with our brides and has made an appearance on BBC3's 'Don't Tell The Bride'."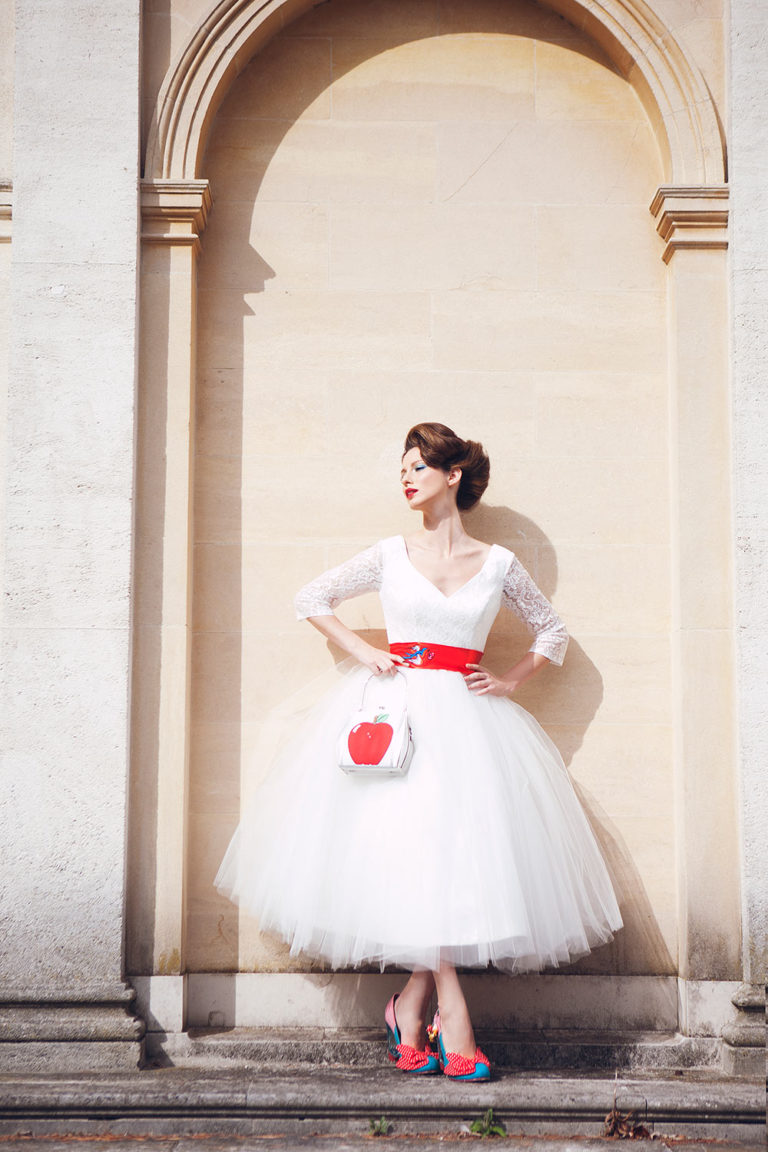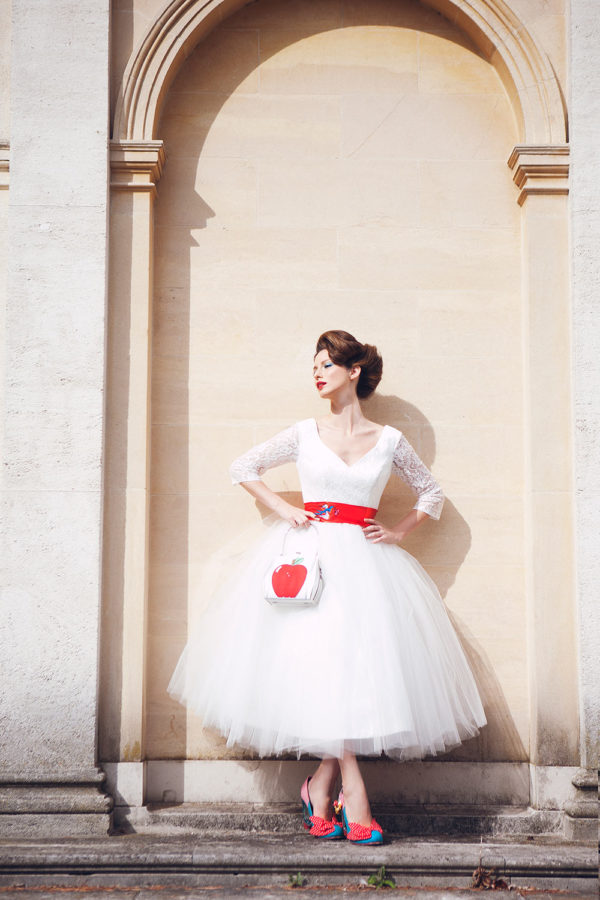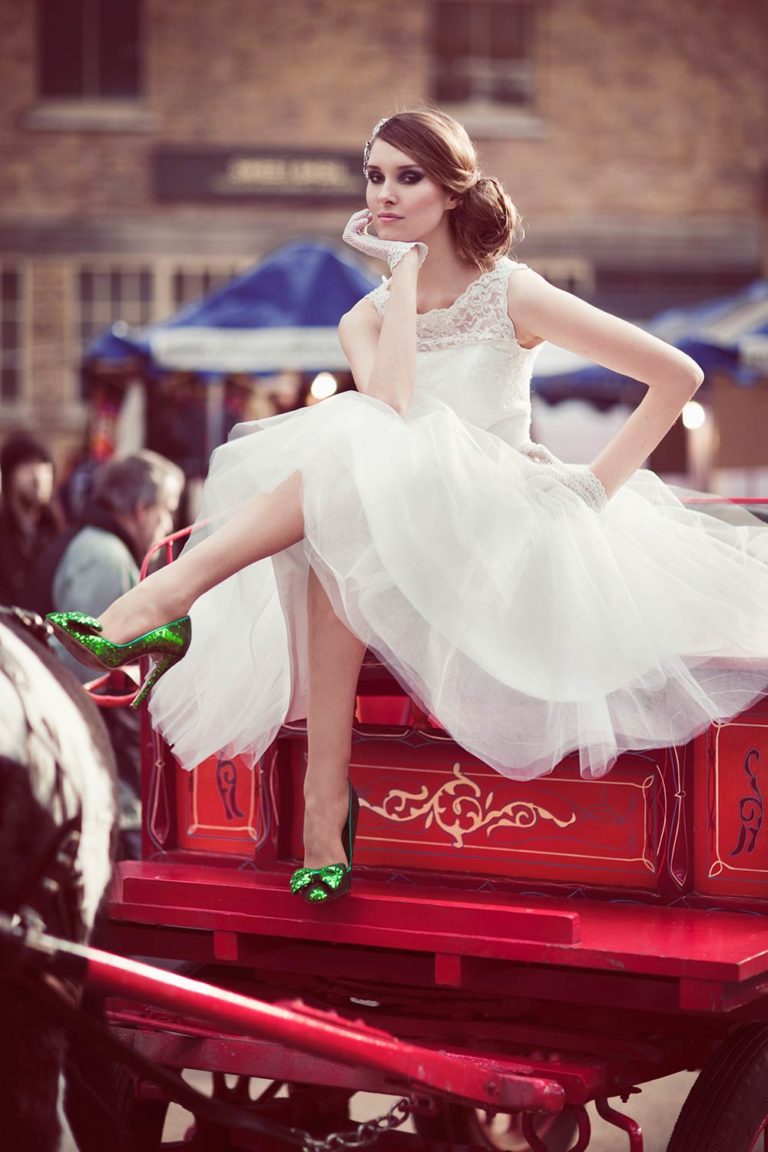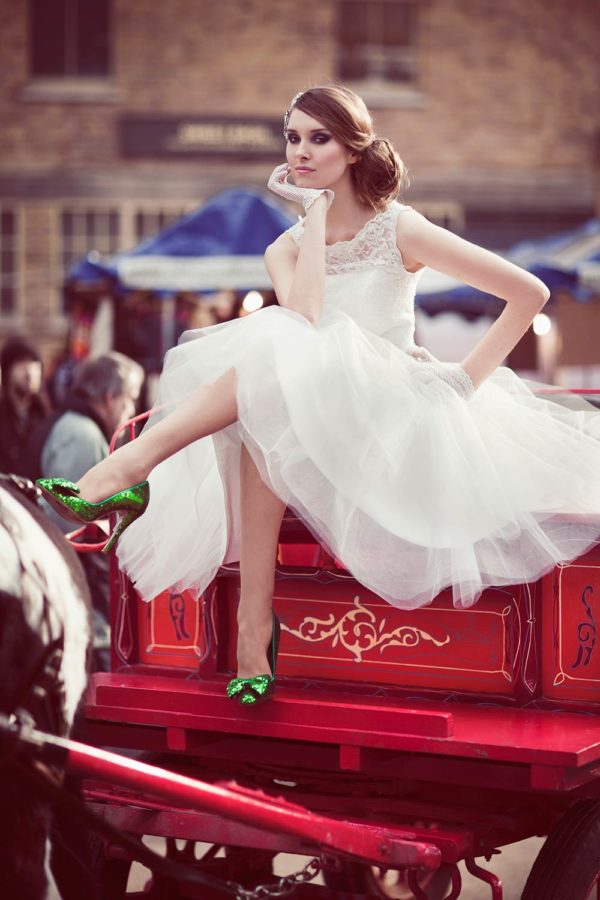 Not only can you choose from a fabulous range of wedding dresses, but you will also find some great accessories too, including the cutest 50's inspired veil.  The 'Truly Madly Deeply' is an elbow length veil made from high quality tulle with fine silver edging on a comb for easy hair attachment – and it's a steal at just £45!
Satin Sashes can be bought for just £25 and are available in no less than 15 gorgeous colours.  If the colour you want isn't listed on the site they will always do their best to source it for you.  The Sashes are great on their own, adding a pop of colour to your gown, but are also perfect for teaming with one of their Retro Iron-On Motifs, which are a just £5 each.
Got a Question?  Kitty & Dulcie love to hear from Brides-to-be!
"We love liaising with our brides via email at hello@kittyanddulcie.com.  We're always available to answer any questions they have," explains Shelley.  The ladies encourage brides to ask as many questions as possible  – everything from the cut and flow of the gown to the type of shoes and hair accessories that will match.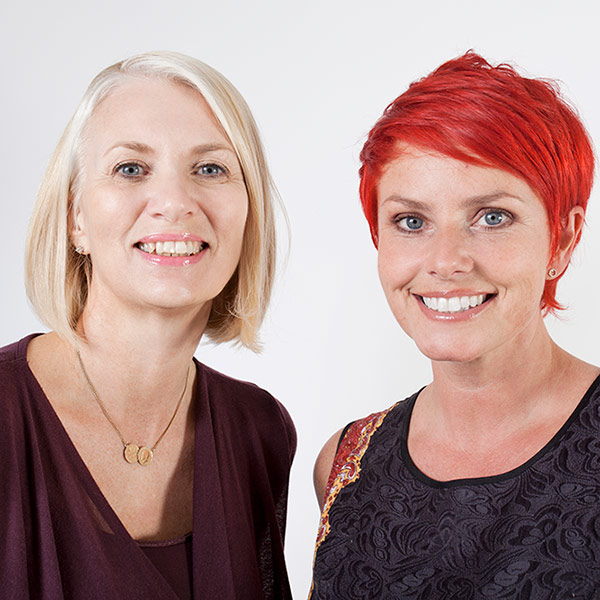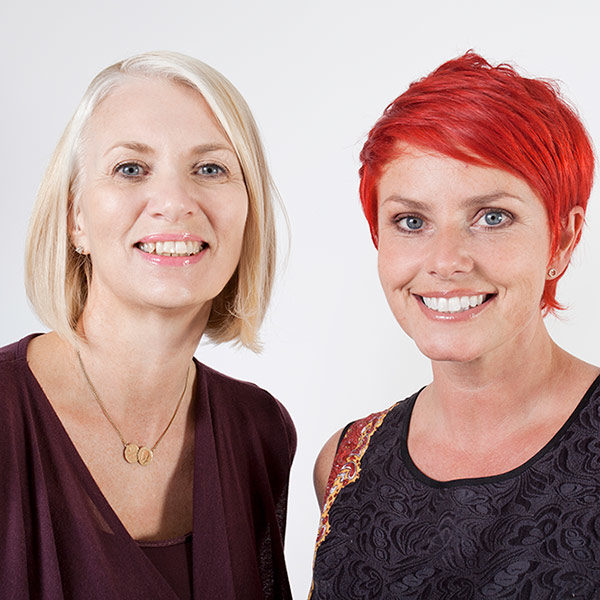 As an internet-only company, it is important that we give the same help and attention that the bride would receive had she gone into a shop
Of course,  if you are buying from the internet, it's essential that you measure yourself correctly, make sure you will be able to return the gown for a full refund and never be afraid to ask questions.  Shelley & Kirstie can advise, ensuring that brides measure themselves correctly and check against their online size guide to avoid disappointment.
However, they realise that nothing compares to trying the real thing.  If you find that the dress isn't quite right, you can return your order within ten working days of receipt for an exchange or a full refund as long as the dress is received in its original condition.  All payments are taken securely via PayPal (no account necessary) so it's a very safe and easy process for the purchaser.
If you are a savvy bride on a budget, check out Kitty and Dulcie's fabulous range of wedding gowns and bargain bridal accessories at kittyanddulcie.com.  We recommend purchasing sooner rather than later – their designs are popular and sell out fast!
You can also check out their blog, Planet K&D, where they share more real brides in their stunning dresses and some great ideas to accessorise your dress, from knock 'em dead shoes to cute little handbags.